The annual fishing tournament held on Roatan in September, 1999, had two surprise winners. Pictured here are, on the left, Aimee McNab (15 years old) and Christianne Etches (14) with the 159 lb. blue marlin that netted them first prize in several categories, including largest fish caught. The young women are students at Children's Palace Bilingual School in French Harbor, Roatan.
Amidst many large and expensive fishing boats, Aime and Christianne set out from French Harbor in a simple 18' boat. They hooked this fellow off West End Point and discovered they had forgotten to bring a gaff with them. Aime removed her sweatshirt and tied it around the fish's bill and she and Christianne managed to pull it onto their boat with their hands.
There were many contestants in the 1999 Annual Fishing Tournament, and the second largest fish weighed in at less than 50 lbs. The largest blue marlin caught in one of Roatan's annual tournaments weighed 450 lbs.
We're not saying that you will catch something like this one, but fishing charters are easily arranged for visitors to Roatan. You just never know....
For great Roatan Fishing Charters, check here: Activities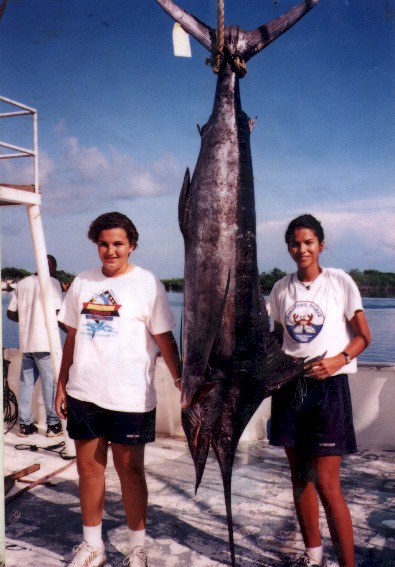 Fishing is an important part of Honduras culture.