On your western Caribbean cruise vacation, if your ship docks at Roatan Honduras, you will find many interesting, fun activities to pursue on our beautiful, charming island. Your cruise ship offers many shore excursions to enjoy, but for those of you who prefer to make your own day, Roatan offers many interesting things to do. There are plenty of scuba dive operators, and our beaches are great for swimming, snorkeling, and sunbathing. Renting a car, motorcycle, or moped can provide you with the means to explore all the hidden places and see the island as it really is; since there is only one paved highway on the island, it isn't easy to get lost. Or you can hire a taxi at the dock to take you where you want to go.
Roatan has the best shore excursions for your cruise vacation.

Cruise Ship Docked at
Coxen Hole, Roatan Honduras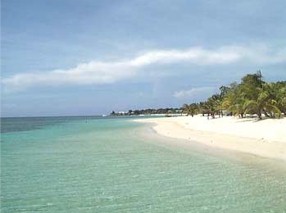 Roatan Honduras is Famous for
its Beautiful Beaches

Land Based Activities:

B.J.s Backyard

- Take a Scenic Tour of Oak Ridge, Jonesville & Mangrove Canal; ice cold drinks and great island food.

Caribbean Rent a Car - Make your own Roatan tour
Christopher Tours

- Offers island, beaches, zipline, mangrove, and free style excursions

Tour of Mangrove Tunnel - Arrange this in Oak Ridge at B.J.s Backyard
Spa Services at Spa Baan Suerte on the beach in Sandy Bay - Massage, facials, and more with a swimming pool, too.
Murphy's Roatan Tours - Exciting island tours including zip line adventures.
Theris' Roatan Tours - Private guided excursions in air conditioned vehicles to Roatan's attractions, activities, and sights.