The FSJ is a non-profit organization established to provide training in artistic skills using native materials to area residents to increase their ability to support themselves in an economically-depressed area in the mountains of Honduras. These are photos taken on our trip to San Juancito to visit the art school of famed Honduran decorative artist, Regina Aguilar. You will find out about the organization of FSJ, a biography of Regina, see photos from our visit to the school and San Juancito area, plus some of the decorative items created by FSJ students that are offered for sale at the Fundacion's shop in Tegucigalpa, the capital of Honduras.
We hope you will enjoy these Honduras pictures and the story of Fundacion San Juancito.
San Juancito, Honduras, is a small town of about 2000 people located about one and a half hour's drive from the capital city of Tegucigalpa. To get there, take the highway to Valle de Angeles; San Juancito is about a half an hour past Valle de Angeles.Until 1954, San Juancito was a thriving mining community with about 44,000 people living there. When the mining company left Honduras in 1954, it took with it the telephones, electricity, and jobs. What was left was almost a ghost town. Because of the economically depressed economy, infrastructure has been slow to return. San Juancito does now have electricity and telephones (that sometimes work) again.
Regina Aguilar, an accomplished artist and talented organizer as well, saw both the potential and need for teaching income-earning skills to the inhabitants of San Juancito. Today, she has two schools (one for adults and the other for children), many students and graduates, a factory employing 30 trained artisans, and a lovely guest house for visitors, including visiting teachers, to San Juancito.
In Vitro, Ms. Aguilar's outlet for the decorative art products made in San Juancito, is located in Tegucigalpa on Avenida de Republica de Panama at Colonia Palmira.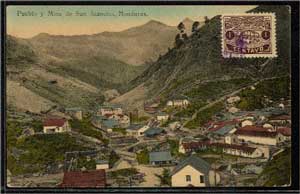 San Juancito seen on an old postcard; click here to see more old Honduras postcards like this.

San Juancito view in 2001